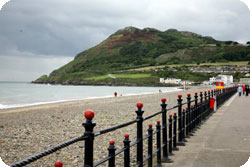 Bray is an ideal location for your language course. It's relatively small size means that students do not have to travel long distances to school.
It is an attractive seaside town of 30,000 inhabitants situated 20 km. from Dublin city centre.
The region is known as The Garden of Ireland, because of it's outstanding natural beauty.
Bray has been a tourist resort since the beginning of the last century, and has a wide range of facilities and attractions – hotels, restaurants, bowling centre, sports centres, an aquarium and a theatre. There are many beautiful seaside and inland walks, and golf, horse riding and sailing are available locally.
There is very easy access to Dublin by public transport, with an excellent bus and train service to the city centre.
The train journey to the city is particularly pleasant with panoramic coastal views. The journey takes only 35 minutes and trains run at 15-minute intervals.