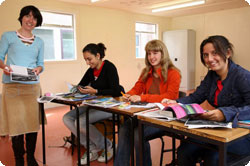 A team of well-qualified, committed, professional teachers provides classes at all levels.
Academic standards are carefully monitored and maintained by our academic team including.
• Written and oral placement tests on the first morning of the course
• Weekly tests
• Weekly progress reports
• Regular feed-back to group leaders
• End-of-course examinations – BLC, TIE, TCL
• Diploma awarded
Other Courses
Autumn / Spring
We organise one week English language courses during autumn and spring for groups of 15+ students.
The courses consist of the following :
 Airport transfers
 Full Board Host Family Accommodation
 15 hours tuition per week
 5 afternoon activities per week
 1 full day excursion per week
 Bus / rail travel pass
 1 leader free with each 15 students
For prices please e-mail kieran@braylc.com
 Work Experience
We organise Work Experience courses for groups [ 10+ ] of students aged 17 and older.
The courses consist of the following :
 Airport transfers
 Full Board Host Family Accommodation
 30 hours unpaid work experience per week
 Bus / rail travel pass
 1 leader free with each 10 students
For prices please e-mail kieran@braylc.com